Ultrasonic Teeth Cleaning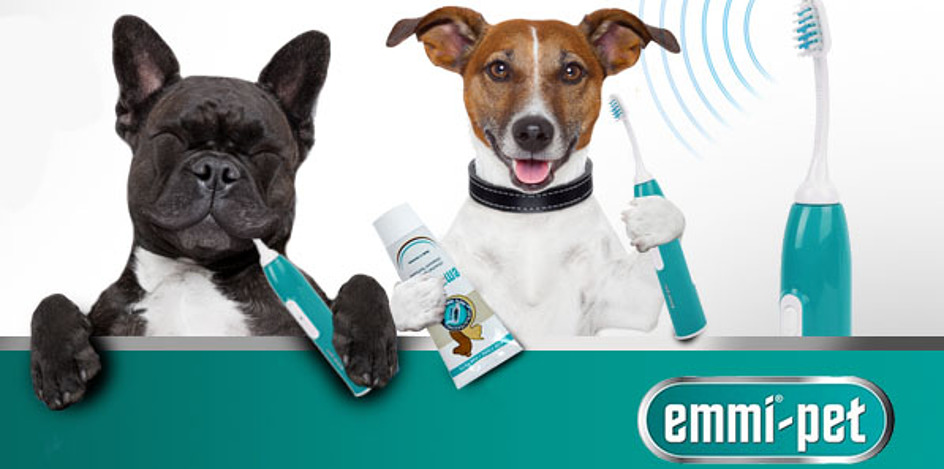 Brittanya Pet Grooming Salon are extremely excited to be able to provide this brand new service to our clients. 100% Original Ultrasound Oral hygiene, proven effective with no brushing.

How it works
Emmi-Pet, with its unique and patented dental care system, is now setting a new trend for a completely new kind of dental cleaning and oral hygiene. It is gentle, motionless and does not involve brushing or any abrasive action!
This revolutionary method is based on a globally unique patent – the Ultrasonic Piezo-Chip created by Emmi-dent. The Piezo-Chip sits in the head of the ultrasonic toothbrush and generated up to 96 million ultrasonic waves (air vibrations) per minute. These ultrasonic waves are then transferred, via the bristles of the toothbrush head, onto the Emmi-pet's specially formulated toothpaste. At this point, 'micro-bubbles' are generated which react with the air vibrations and implode. These implosions effectively eliminate and remove food particles, plaque and bacteria from within your pet's mouth.
Emmi-Pet effectively helps to combat: gingivitis and periodontitis; oral cavity disease; plaque and tartar build up; and bad breath.
Our Ultrasonic Oral Care Packages
Package 1: Intensive Course
This treatment is for dogs that already have some tartar buildup and require an intensive course to heal gums and promote cleaner teeth. This treatment will require a minimum of 5 visits over a 1-2 week period. Each visit will last 20-30 minutes.
Each dog will receive their own toothbrush head which is sterilised and kept here in between appointments.
The cost of a block booking of 5 appointments for the intensive course is £80 payable at the first appointment. This includes the cost of your pet's own toothbrush. It is possible that, in some cases, 5 visits is not enough to complete the course and sessions after this are £15 each appointment.

Package 2: Maintenance
This treatment is for maintenance of your dog's mouth and is ideally suited to dogs that do not have tartar buildup or have recently had a full dental treatment.
Each visit will last approximately 20-30 minutes and, for existing grooming clients, can be added onto your regular grooming appointments.
Each dog will receive their own toothbrush head which is sterilised and kept here in between appointments.
The cost of maintenance treatments are £30 for the first visit which includes your dog's toothbrush head and initial consultation and £15 for each visit after that.
Please Note!

Brittanya Pet Grooming Salon cannot be held responsible for any underlying issues that may be discovered in the course of treatments and can only be undertaken on dog's with good health and temperament.
We cannot guarantee the treatment's effectiveness, especially if the advised frequency and/or home maintenance is not kept up.
If we feel that any teeth are loose or at risk of becoming loose when the tartar comes off, we may request you get your pet's teeth checked by your vet before treatment. It is possible that tartar buildup will be too great and then a veterinary dental may be necessary initially and then follow up with ultrasonic maintenance visits with us.
Toothbrush heads will need replacing after approximately 25 visits or if they become damaged at a cost of £10.
Ultrasonic treatment is not a veterinary procedure and Brittanya Pet Grooming Salon cannot diagnose any problems with your dog's mouth. It is a service designed to help maintain healthy teeth and gums and does not preclude the need for regular veterinary check-ups.
To make enquiries or book a teeth cleaning schedule with us, please call us on 01908 644111. All of our staff are trained and will be happy to advise.
Case Studies
Amber, the 7 year old Standard Poodle
Amber entered into an intensive treatment plan having treatment session every day for five days. Here are the results: